Electrics:
Siemens,Mitsubishi,etc
Composition:
Pet Bottle Making Machine
Name:
Bottle Blowing Making Machine
Power:
380V or Customer Made
Capacity:
1000bph to 8000bph
Transport Package:
Wooden Cases
Specification:
4.5m*2.1m*2.5m
1L plastic lubrication oil container automatic blow moulding machine / bottle blowing machine
Product Introduction
1. Stable performance with advanced PLC.
2. Automatic preform conveyer to save human cost.
3. Preform self-rotation and infrared pre-heater revolution assure the even distribution of heat, which improve the bottle shaping rate, increase the production.
4. High adjusting performance to enable preheat the preforms perfectly by adjust the voltage control area in the PLC, which could adjust the temperature of the infrared lights in the pre-heater, and keep the proper temperature and humidity invariable.
5. High safeties with security automatic-locking device in each mechanical action, which will make the production into a perfect safe environment, in case of the breakdown in certain procedure.
6. Introduce the FESTO air cylinder to avoid contamination and noise.
7. Satisfaction with different atmospheric pressure for blowing and mechanical action by dividing the blowing and action into three parts in the air pressure diagram of the machine.
8. Strong clamping force with high pressure and double crank links to lock the mould.
9. Two ways of operating: Automatic and manual.
10. 
Low cost, high efficiency, easy operation, easy maintenance, etc, with automatic technological process.
11. 
Contamination is avoided for the bottle body.
12. 
Ideal effect of the chilling with the chilling system.
13. Easy installation and starting
14. Safereliable and unique design of the position of valve to make the pneumatic diagram in the machine easier to understand.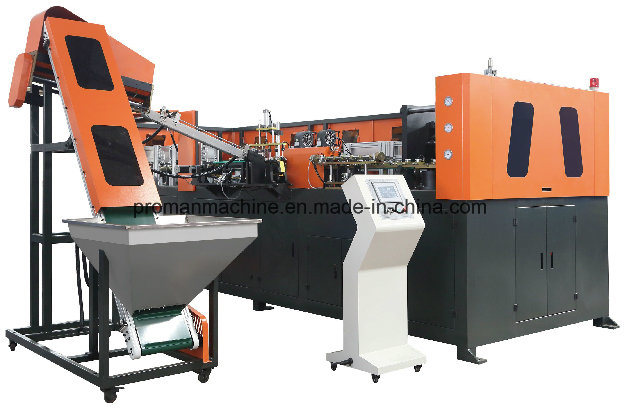 1. Low costhigh efficiencyeasy operation and maintenance, etc, profited from the fully automatic technological process.
2.Ideal cooling system make the finished bottles without any flaws.
3. Easy for you to installtest and start up.
4. Low rejection rate: Less than 0.2 percent.
5.Customized bottle mold design.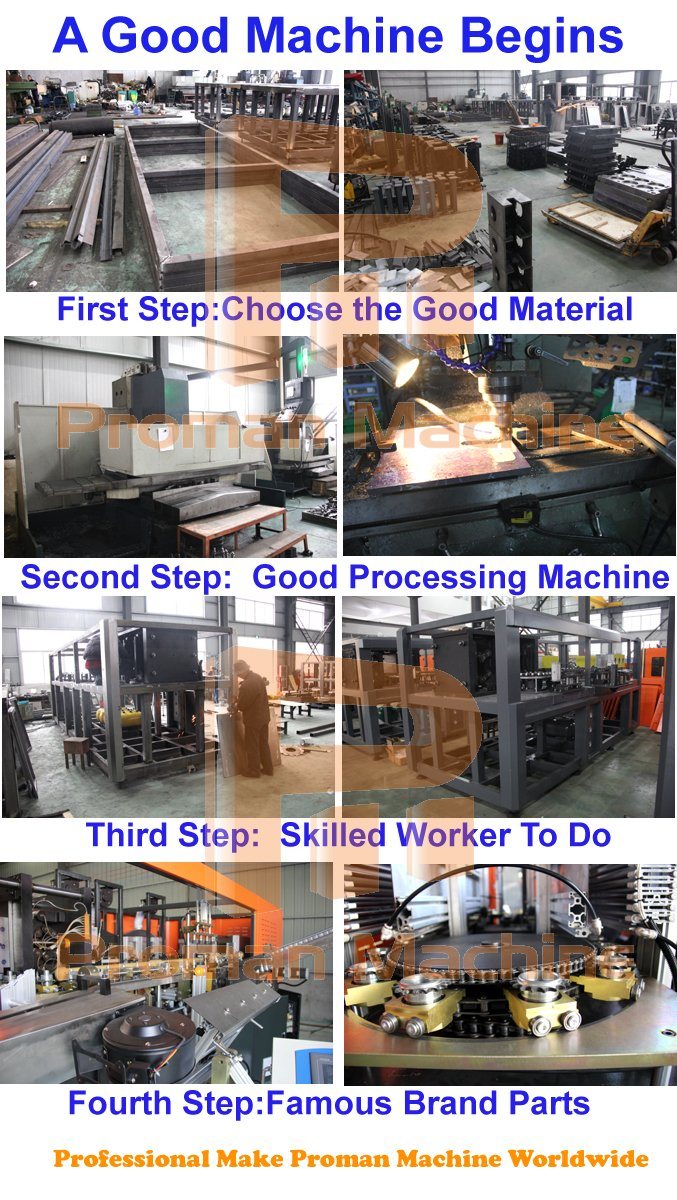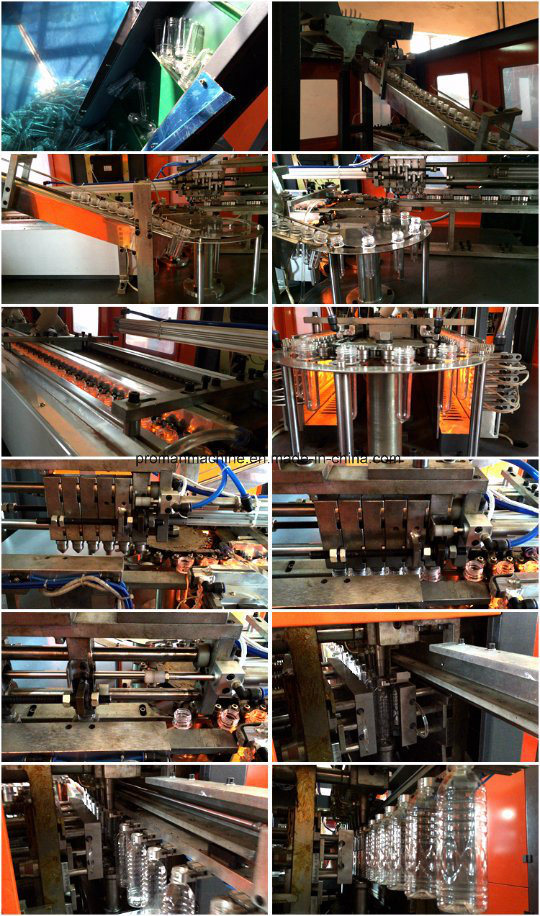 Technical Parameter
Model
Item
PM-A2
PM-A4
PM-A6
Productivity
Depend on bottle design
2400-2700PCS/H
3200-4000PCS/H
4500-6000PCS/H
Product type
Volume
0.1-2.0L
0.1-2.0L
0.1-2.0L
Body diameter
≤100mm
≤100mm
≤100mm
Height
≤310mm
≤310mm
≤330mm
Neck diameter
≤38mm
≤38mm
≤38mm
Mold
Cavity
2
4
6
Mold thickness
240mm
240mm
240mm
Mold volume
260*240*370mm
510*240*360mm
640*240*360mm
Main machine power
Electrical source power
380V/220V 50/60HZ
380V/220V 50/60HZ
380V/220V 50/60HZ
 
3Phase
3Phase
3Phase
Rated power
25kw
49kw
73kw
Really use power
6.5kw
13kw
25kw
Air system
HP air compressor
1.6m³/min3.0Mpa
3.0m³/min3.0Mpa
6.0m³/min3.0Mpa
LP air compressor
1.0m³/min1.0Mpa
1.6m³/min1.0Mpa
2.0m³/min1.0Mpa
Air tank
0.6m³3.0Mpa
0.6m³3.0Mpa
1.0m³3.0Mpa
Air dryer
1.0m³/min3.0Mpa
2.0m³/min3.0Mpa
6.0m³/min3.0Mpa
Cooling water
Water Chiller
3HP
3HP
5HP
Machine
Size(L*W*H)
1900*1280*1930mm
1900*1860*1930mm
4100*1400*1800mm
Weight
2000kg
3600kg
3200kg
Preform unscrambler
Size(L*W*H)
2000*950*2480mm
2000*950*2480mm
2000*950*2480mm
Weight
250kg
250kg
250kg


 
Brand Name
Name

Brand

Original

Cylinder

SMC

Japan

Magnetic valve

SMC

Japan

Photoelectric switch

XINLV

CHINA

Touch screen

MCGS

CHINA

PLC

Mitsubishi

Japan

Transducer

SMC

Japan

servo motor

HUICHUANG

CHINA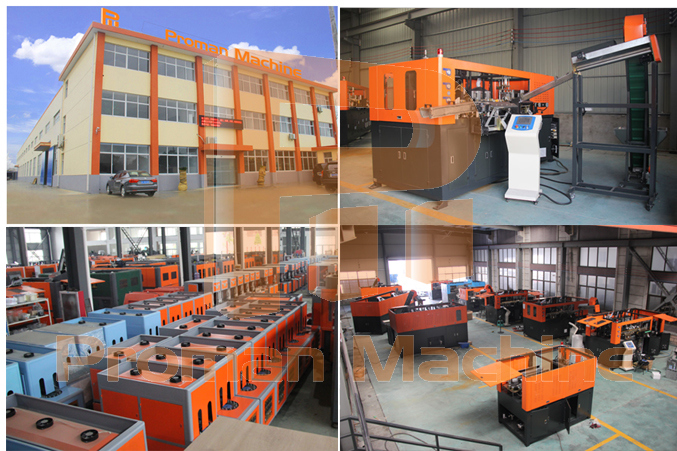 FAQ
1.How to tell us your enquiry?
:You can contact us by email, phone call, fax, Instant Messenger (Trademanager, WhatsApp, Skype) and let us know your requirement.
2.Are you manufacturer or trading company ?
We are industrial manufacturer, which locates in Zhangjiagang city
over 18years .
3.Where is your factory?
Our Factory is located in Zhangjiagang City, it is very near to Shanghai and Wuxi (airplame and train both available). If you arrive at Shanghai or Wuxi, we can pick you up to visit our factory.
4. Do you have any technical supports with your Beverage Filling Machines?
Yes,
We have a professional team of engineers who owned many installation, debug and training experiences abroad, are available to service machinery overseas.
We Warmly Welcome Customers All Over The World To Our Company.If You Have Interests In Our Products. Please

Contact Us If You Have Any Problems.
 
it is full range of Piston Skirt for the following type :
AAA) YANMAR DIESEL ENGINE
K(D)L, KFL-T, 6MAL-H/T/HT/DT, S165-T/ST/EN,
S185-ST/UT/ET, M200L-UN/SN/EN/M220L-UN/SN/EN / N 330

BBB) DAIHATSU DIESEL ENGINE
PS22/26/ DS18(A)/ DS(B)22/
DL20/22/28/ DK20 / DK 28

CCC) NIIGATA DIESEL ENGINE
6L(M)25BX/6M28AFTE/BX/6M31X/EZ/EX/ 31AFTE /34AGT

DDD) AKASAKA
AH30/AH38/ AH40/D/F/ A31/34/37/41/ DM28/30/33/36/38/40(A)K/ DM46/ UEC37H-HB/ UEC 37/88H
UEC 37LA/ UEC45LA/ UEC52LA/ UEC52HA/ UEC60HA/ UEC60LS/ UEC45HA/115 ALL UET TYPE

EEE) MITSUBISHI (KOBE AND AKASAKA )
45/75C/ 45/80D/ 52/90D/ 52/105D.E/
UEC37H-IIB/ UET37/88HA/UEC45HA.LA/ UEC52HA.LA/ S6B/
ETC

FFF) HANSHIN
6LU(D)26/ 6LU(N)28A/ 6LU(D)32/6LU(D)35/ 6LU(S)38/ 40 / 6LU40/ 6LU46A/ 6LU50A/
6EL30/ EL(S)32 /6EL(S)35/ 6EL38/ 6EL40/ 6EL(S)44/50A/
GGG) MAN B&W
S35MC/L35MCE/L50MCE/ L60MCE/ 40/54A

HHH) MITSUBISHI PURIFIER
SJ700~SJ1800/SJ 2000
III)SULZER
RND 68 RND 76 RD 44
JJJ) MAKITA
GSLH – 633 637 KSLH -633 637
Kkk) PIELSTICK
PC 2-5 PC 2-6
Piston Skirt,Engine Piston Skirt,Diesel Engine Piston Skirt
ZhouShan HeCheng Machinery Co., LTD. , http://www.hcmarineparts.com