Model NO.:
Wire Steel Fiber
Tensile Strength of Steel Wire:
600-2880MPa
Standard:
BS, ASTM, ANSI, JIS, GB, DIN, GOST
Application:
Metal Recycling Machine, Metal Processing Machinery Parts, Metal Spinning Machinery, Metal Coating Machinery, Metal Engraving Machinery, Metal forging Machinery, Metal Casting Machinery, Metal Cutting Machine
I. Description
Working principle:
Wire Steel Fiber Machine is adopting Germany technology; counter cutting technology; produced all types of steel fiber for concrete reinforcement. Differ from the traditional low capacity machine; you can get more than 6 tons hooked and steel fiber by using one our machine instead of six sets old style steel fiber machine.
Application: This machine can form and cut straight type, twist type, wave type, hook type, saw tooth type, dint type, etc.
Advantages: As a special steel fiber machine, we design a precision counter rotating cutters to suit the high speed running, also pay attention to the stable production, easy setting on the cutter and safety to the operator. Save your cost at least 20% money by using steel fiber instead of steel bar in concrete reinforcement, to considerably increased load-bearing capacity, high durability and high impact resistance for longer lifetime.
II.Machine Chracteristics:
Production capacity:2 ton-7 ton per 8 hours shift
Steel Fiber Shape: Hooked End, Flat End, Waved Type etc.
Wire Diameter: 0.3-1.0mm
Tensile Strength of Steel Wire: 600-2880MPa.
Max Length: 60mm
Raw Materials: Stainless Steel Wire iron wire
Weight: 1200kg
Motor Capacity: 3KW
III.Commercial terms
1. FOB price: main machine: 7200 USD FOB Xingang Port, China                           
2. Payment: 30% T/T in advance, the balance 70% by T/T after check the machine at seller's factory.
3. Minimum order quantity: 1 set
4. Certification: ISO 9001 Certificate
5. Delivery time: 30 days from received your payment in advance.
6. Country of origin: China
7. Our guarantee time: 12 months after the equipment is accepted by the buyer, however, the guarantee period is no longer than 18 months after equipment's departure from Xingang port, China.
8. Installation: we could arrange our engineer install the machine in our factory.
IV. Contact Information

HEBEI JIAKEÂ WELDING EQUIPMENT CO., LTD
Hebei Jiake Welding Equipment Co.,Ltd. (Manufacturer)Â 
Factory Add: Wire Mesh Industrial Zone, Anping County, Hebei, China.
Tel: +86-311-80796161 Â  Â  Â  Â  Â  Â  Â  Â  Â  Â  Â  Â  Â Â Fax:Â 
Mob: +86 Â  Â  Â  Â  Â  Â  Â 
URL: ;dapumachinery.com 
API 5DP Drill Pipe is a kind of steel pipe with screw thread in the pipe end. It is used for connecting ground rig equipment and drill grinding equipment at the bottom of drilling wells. The main purpose of drill pipes is to transport drilling mud to the drill bit. It rises up, lowers and rotates together with the drill bit. Its strength must withstand the pressure, torque, vibration and other forces caused by the drill hole. In the oil and gas exploration and refining process, API 5DP drill pipe can be used for multiple times.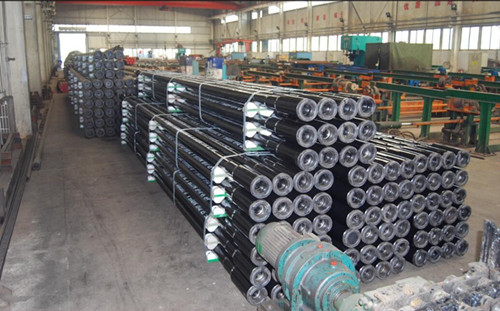 Size

(

inch

)

Weight
Designation

(

PPF

)

Calculated Weight
Wall Thickness
Grade
Upset Ends
Tools Joint
Designation
lb/ft
kg/m
in
mm
2 3/8
6.65
6.27
9.33
0.280
7.11
E

.

X

.

G

.

S

EU
NC26
2 7/8
10.40
9.72
14.47
0.362
9.19
E

.

X

.

G

.

S

EU

.

IU

NC31
3 1/2
9.50
8.81
13.12
0.254
6.45
E

.

X

.

G

.

S

EU

.

IU

NC38
3 1/2
13.30
12.32
18.34
0.368
9.35
E

.

X

.

G

.

S

EU

.

IU

NC38

.

NC40

3 1/2
15.50
14.64
21.79
0.449
11.4
E

.

X

.

G

.

S

EU

.

IEU

NC38

.

NC40

4
14.00
12.95
19.27
0.330
8.38
E

.

X

.

G

.

S

EU

.

IU

NC40
4 1/2
13.75
12.25
18.23
0.271
6.88
E

.

X

.

G

.

S

EU

.

IU

NC46
4 1/2
16.60
15.00
22.32
0.337
8.56
E

.

X

.

G

.

S

EU

.

IU

NC46
4 1/2
20.00
18.71
27.84
0.430
10.92
E

.

X

.

G

.

S

EU

.

IU

NC46
5
16.25
14.88
22.16
0.296
7.52
E

.

X

.

G

.

S

IU
NC50
5
19.50
17.95
26.70
0.362
9.19
E

.

X

.

G

.

S

IEU
NC50
5
25.60
24.05
35.80
0.500
12.7
E

.

X

.

G

.

S

IEU
NC50
5 1/2
21.90
19.83
29.52
0.361
9.17
E

.

X

.

G

.

S

IEU
5 1/2FH
5 1/2
24.70
22.56
33.57
0.415
10.54
E

.

X

.

G

.

S

IEU
5 1/2FH
6 5/8
25.20
22.21
33.04
0.330
8.38
E

.

X

.

G

.

S

IEU
6 5/8FH
6 5/8
27.72
24.24
36.06
0.362
9.19
E

.

X

.

G

.

S

IEU
6 5/8FH
Petroleum Drill Pipe,Oil Drill Pipe,Drill Pipe,Pipe Drill
Zhangjiakou Xiandai Petroleum Drill Tools Co,. LTD. , http://www.xdpdt.com